Learn the stories of 3 scams
Harshad Mehta, Ketan Parekh and NSE Algo
ABSOLUTE POWER: Inside story of the National Stock Exchange's amazing success, leading to hubris, regulatory capture and algo scam.
By Sucheta Dalal and Debashis Basu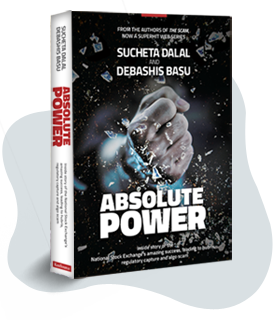 In 1992, the Harshad Mehta scam led to profound changes in capital market regulation and infrastructure. One of these was setting up the NSE as a cleaner alternative to the century-old BSE. In a supreme irony, NSE itself got embroiled in the algo scam originating in the Exchange's sanctum sanctorum: the co-location servers for high frequency trading. Absolute Power is the story of NSE's commercial success leading to arrogance and fall from grace.
Samir Arora, hedge fund manager:
"Finished 'Absolute Power' by Sucheta Dalal/Debashis Basu. Very interesting stories about people whose names are otherwise familiar but we never really knew what they were up to. For our markets to grow and develop , we need more such exposes. This one is a thriller."

Also available on KINDLE at Rs449
THE SCAM: From Harshad Mehta To Ketan Parekh Also Includes JPC Fiasco & Global Trust Bank Scam
By Sucheta Dalal and Debashis Basu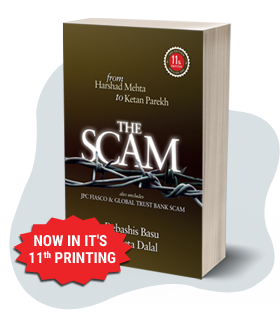 #Scam92: Read the Actual Story




29 YEARS OF THE SCAM: THE PERENNIAL BESTSELLER, READS LIKE A THRILLER!



The most thrilling non-fiction business book ever written in India.A fast, colourful narrative, knitting together the life and times of all stock market players involved in two of India's biggest stock market scams.
THE ECONOMIC TIMES:
"Written in a racy style, the book weaves together the main players and the not-so-well-known sub-scams ... The authors have done a commendable job..."
Also available on KINDLE at Rs413
FACE VALUE: Creation and Destruction of Shareholder Value in India
By Debashis Basu
A path-breaking work on the creation and destruction of shareholder value, which is of enormous value to serious students of value investing and corporate behaviour.

GV Ramakrishna, former Chairman of SEBI: "This is an uncommon book on a common topic written in a readable style. The little understood, but widely used cliche shareholder value has been demystified with a detailed and perceptive analysis of several companies. Many myths have been convincingly exploded... being the first of its kind, this book will be of immense value to capital market players, intermediaries, corporate executives, and all those interested in the practice of shareholder value."
Available ONLY on KINDLE at Rs275
For bulk discounts, please Whatsapp +91 7045156415
Moneylife. Unit No. 316, 3rd Floor, Hind Service Industries, Off. Veer Savarkar Marg, Dadar (W), Mumbai 400 028. Call: 022-24441058/59
email: subscribe@moneylife.in.