Dear Moneylifers,
Greetings! This month, we have some updates on important issues that we had taken up on behalf of our members. Before you read on, let me also remind you that we have a webinar lined up with veteran RTI activist Anil Galgali on May 10, where he will be speaking on the important topic of using RTI for civic issues and ultimately for public good. You shouldn't miss this opportunity to learn from an expert who has effectively used the Right to Information Act to tackle local municipal problems. Details and registration link for the webinar have been given below.
Centralised Database for Unclaimed Deposits
Perhaps in response to the plea that I had filed in the Supreme Court (SC Issues Notice on Plea By Sucheta Dalal That Information on Unclaimed Amounts Lying in Dormant Accounts Be Made Publicly Available on a Centralised Platform), RBI governor Shaktikanta Das recently announced the development of a common web portal to search for unclaimed deposits. Currently, depositors or beneficiaries of unclaimed bank deposits of 10 years or more have to go through the websites of banks to locate such deposits. RBI stipulates that details of unclaimed deposits be displayed on bank websites, but it still remains a convoluted and time consuming process. The development of a searchable common web portal for unclaimed bank deposits is a welcome change that is the direct result of our efforts to reunite unclaimed assets with their rightful owners.
On the other hand, the Supreme Court has allowed three weeks time for the ministry of finance to file a counter-reply to the petition. The bench has agreed that the issue of unclaimed deposits is very large and needs to be considered in detail, and has also allowed senior counsel Prashant Bhushan to file a combined rejoinder.
---
Public Liability Insurance
Some of you may recall that Advocate Jamshed Mistry, appearing as amicus curiae in a case of non-repair of potholes on roads, had submitted our Public Liability Insurance report to the Bombay High Court bench (Public Liability Insurance a Very Good Suggestion for Victims of Untoward Incidents: Bombay HC). Advocate Mistry had shared key action taken points from our report before the bench and submitted that in the case of liability insurance, victims could be immediately provided with some relief without needing to go through a rigorous process.
In a recent hearing, the High Court bench has now asked BrihanMumbai Municipal Corp (BMC) to respond by the next hearing date, to the suggestion of requiring public liability insurance (PLI) for such cases. This is an interesting and important development, which may help the cause of mandating public liability insurance for all public places. We are hopeful of a positive outcome and are encouraged by the fact that public liability insurance was accepted as a good suggestion by the ruling bench.
---
Sahara's Credit Cooperative Societies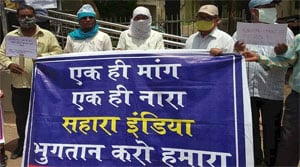 As members would recall, Moneylife has been highlighting the plight of investors in Sahara's credit societies and has been tracking the issue of non-payment of their deposits over the years. When all efforts to recover their investments were exhausted, we had filed interim petitions in the Supreme Court, with the assistance on a pro bono basis from senior counsel Shyam Divan. The case had recently come up for hearing and the Supreme Court had directed both SEBI and Sahara to respond to our interim applications, and a subsequent hearing was scheduled to be held in April. Unfortunately, as one of the judges on the Supreme Court bench was not present, the hearing for our case was again postponed.
Meanwhile, a separate application that was filed by the Union Government to seek allocation of Rs5,000 crore, out of the nearly Rs25,000 crore deposited with SEBI, to pay back the depositors of Sahara, was accepted and heard by the apex court. The bench passed an order that the amount will be disbursed to depositors duped by the Sahara group of cooperative societies, and a former judge of the apex court shall monitor the entire process. You can read more about this order here: Sahara Refunds: A Silent Regulator and a Mysterious and Confusing Supreme Court Order
---
Using RTI Applications for Social Good
The Right to Information (RTI) Act empowers citizens with an important tool that lets them seek transparency and accountability from the government. While activists typically focus on larger issues of governance, common citizens can try and focus on local matters such as roads, sanitation, drainage etc. Information on the projects undertaken by a municipal corporation or the amounts spent on a particular civic project, can easily be obtained under the RTI Act. Don't miss the opportunity to learn how you can use the RTI Act for social and public good! Register now and join us on May 10th as veteran RTI activist Anil Galgali shares his experience using the RTI act for civic and municipal issues.
---
Our Webinars
It started as an exercise to do counseling and workshops online during the pandemic and subsequent lockdowns, but has now become part of our regular routine. For those who have not been keeping up, we have been hosting webinars online on a wide range of topics from right to information, health, financial literacy, broker defaults and investor grievance mechanisms, redevelopment and conveyance, wills and nominations, and more. Video recordings of all our webinars are available on our YouTube channel. Do subscribe, so that you get notified when a new video is available.
If you would like to be notified when our next webinar is scheduled, please become a member of Moneylife Foundation so that you are automatically added to our mailing lists. Do encourage others to join and take advantage as well!
---
Our Counseling Sessions
It's been a few months since we restarted our in-person one-to-one counseling sessions, and we are glad to report that many of you have taken advantage of this FREE service. Our experts, Mr Shirish Shanbhag for housing society and property related matters, and Mr Abhay Datar for banking, insurance, mediclaim and consumer related issues, have continued to provide workable solutions to your grievances and have helped many in these past few months to resolve issues.
They spend their valuable time to provide guidance through counseling sessions and also through our online helplines, and their efforts continue to help many of those who have sought help. If you have a specific concern or issue related to co-operative housing societies, insurance, mediclaim or consumer related complaints, do call our office - (022) 2444 1058 or (022) 2444 1059 for an appointment if you are in Mumbai. Otherwise use our Free Helplines for guidance.
---
Consumer Awareness & Financial Literacy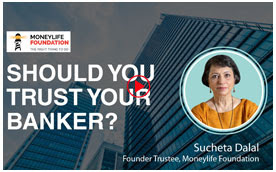 As members of Moneylife Foundation, you have access to various content in the form webinars, recorded videos and articles on matters of consumer awareness and financial literacy that we have published on our websites and YouTube channels. All of our published content is available for free, with no restrictions whatsoever. If you've not taken the time to educate yourself, please do so and spread the word about our work to your friends, colleagues and family so that many others can benefit.
As consumers you need to be vigilant when shopping or transacting online. Deals that seem too good to be true, are most likely scams designed to lure unsuspecting consumers. Thousands of people become victims of holiday scams every year. Scammers can rob you of hard-earned money, personal information, and at the very least, a festive mood. It is important you remain vigilant and aware in an increasingly online world that becomes unsafe for consumers in new ways everyday. Moneylife Foundation has actively made efforts on several fronts in this regard.
We continue to educate our members on the latest frauds, scams and attractive yet fraudulent schemes through series of articles on Moneylife. Our Youtube Channel has a vast repository of videos from past seminars and workshops, as well as short videos on topics of financial literacy which are a great resource to those willing to spend some time learning. Our online helplines are always open for counselling from a panel of experts on issues on banking, insurance, housing and property related matters, consumer and other issues.
Do take the time to read our articles, watch the videos and also share them with others, so that many more can take advantage of the knowledge and remain safe. Please also do encourage your friends, family members and colleagues to become members of Moneylife Foundation.
Take extra precaution when using banking apps, websites or e-commerce sites while shopping, as they have been instances of fake apps and fraudulent websites masquerading as authorised ones. Read this article to know what you should do when you are cheated while shopping online and follow this how-to guide when you want to file a consumer complaint.
Recently we have made efforts to present our financial literacy videos in languages other than Hindi and English. You can now learn to use credit cards safely, stay away from online frauds, learn about the fallacy of gold loans and more in Marathi, Gujarati, Punjabi and Tamil, all on our YouTube channel (https://www.youtube.com/moneylifetv).
---
Upcoming Programmes
We have a few webinars lined up in the coming months. So keep a lookout for the invitations in your mailbox or WhatsApp (if you're on our lists). If you have a topic or issue that you would like us to cover in a webinar or workshop, do send us an email at foundation@moneylife.in, and we will surely consider your request.
How to Effectively Use RTI Applications for Civic & Municipal Issues
Anil Galgali, veteran civic and RTI activist, shall explain how RTI applications can be an important tool for seeking transparency and accountability from municipal corporations.
Register:
https://us06web.zoom.us/meeting/register/ tZUucOqopj8sHteizI0uIpXwu4axF0NoCcmm
Do subscribe to our YouTube Channel for regular updates and notifications when a new video is released, and also encourage your friends and family to do so as well. After all, the more number of people that watch and learn from these short videos, the more financially literate we can all be.
We are also happy to send them to you in the language of your choice on WhatsApp and Telegram if you share your numbers at Moneylife Foundation's WhatsApp number (+91 7045156415). This is also a good opportunity for you to join our WhatsApp broadcast list as well as our telegram channel. Join to stay in the loop about Moneylife Foundation's activities.
Do send us your feedback on these and if you have benefitted from our work, please do not forget to pass it forward by introducing our videos, free helplines and membership benefit to others. Do register for a free membership and also encourage your friends and family to join as well.
---
File your RTI Applications with Expert Guidance
RTI Advice App पर विस्तृत गाइड से विशिष्ट उपयोग के मामलों के लिए आरटीआई आवेदन दाखिल करने का तरीका जानें। हिंदी और मराठी भाषाओं में उपलब्ध।
Many of you are already aware of our 'RTI Advice' app, which was launched for both android and iOS devices a year ago. The app helps you get expert advice on your RTI queries in any language or format (text, audio or video) and access to over 900 queries that are already asked and answered by our 14 highly regarded RTI experts.
Don't worry about how to navigate the app—we now have user guides for you in English, Hindi and Marathi! Download the app or access the guides from our website here.
---
Programmes Conducted
This month, Aparna Ramchandra, founder-director of Rectify Credit, spoke on the important topic of credit scores, credit reports and how to go about fixing low or incorrect scores. During the talk, Ms Ramchandra shared many real-life examples and lessons that one can potentially learn from, while avoiding serious financial mistakes. If you missed important webinar, you can always watch a video recording of the same on our YouTube channel here and read about it here. The session was well attended by interested members of Moneylife Foundation on Zoom and also on our YouTube and Facebook channels.
---
Moneylife TV & Helplines
Catch up with our financial literacy work through Moneylife TV and Moneylife News Bites.
Get guidance and counselling through our Legal Helpline or Credit Helpline.
Also, Moneylife Foundation is now on Telegram and Instagram, so do follow us on these channels to stay updated on our activities and events.
Sucheta Dalal
Founder-Trustee, Moneylife Foundation
Trustees: TS Krishnamurthy, Walter Vieira, Sucheta Dalal, Debashis Basu.
Moneylife Foundation is registered with the Charity Commissioner of Mumbai, is an Affiliate member of OECD's International Network on Financial Education, is a Supporter Member of Consumers International, Development Partner of Advocates for International Development (A4ID), and is a winner of the 10th MR Pai Memorial Award.

Donations are eligible for tax benefits under Sec 80G of the Income Tax 1961 (50% tax exemption) and MLF is registered under the Foreign Contribution (Regulation) Act, 2010.

80(G) Reg No: DIT(E)/MC/80G/685/2010-11 dated 7.2.11 effective 8.+9.2010 | FCRA Registration No: 08378138